A shoot to remember – classic car, crazy dogs, lovely backdrops and more. Oxfordshire portrait photographer
I had a phone call a few months ago from Helen, who asked me if I was interested in a long lifestyle portrait shoot. She explained that they hadn't had a professional photographer at their wedding, and she would like to organise a portrait shoot instead, but one which was a little out of the ordinary.
She wanted to be photographed with her husband Ed, but also her father Martin, and their three dogs; two Labradors and a Weimaraner. At this point, I have to admit, I wasn't completely sold on the idea. I'm not known as the biggest dog lover in the world. Indeed, I barely measure on the dog toleration scale – but this was about to change.
As our conversation progressed, I was wavering as to whether to do the shoot or not – until Helen mentioned the magic words – E Type Jaguar.
It turns out Helen owns a 1967 model, in fantastic condition, and they wanted to use it in part of the shoot. I was sold!
We organised the day into 2 distinct parts. The morning was all about the dogs. I was looking for a rural theme, where we could find some appealing backdrops for Helen and Ed, but also let the dogs loose. I suggested the ruins of Minster Lovell Hall.
It's a magical place, with plenty of scope for portrait photography. And action shots of dogs. I really enjoyed taking these. I surprised myself!
We had a very relaxed morning, and a lot of fun.
And so, to the afternoon. I'd asked Helen and Ed to put on posh frocks (well, Helen anyway – Ed wore a tux), and had a vision of photographing these beautiful people, and their equally beautiful car, against a decaying urban background. I had scouted out a couple of locations. The first was a local industrial estate, where the expanse of peeling corrugated iron, and towering derelict concrete columns appealed. Most of this estate has been modernised over recent years, with many shiny new units – so I was lucky to be able to record this.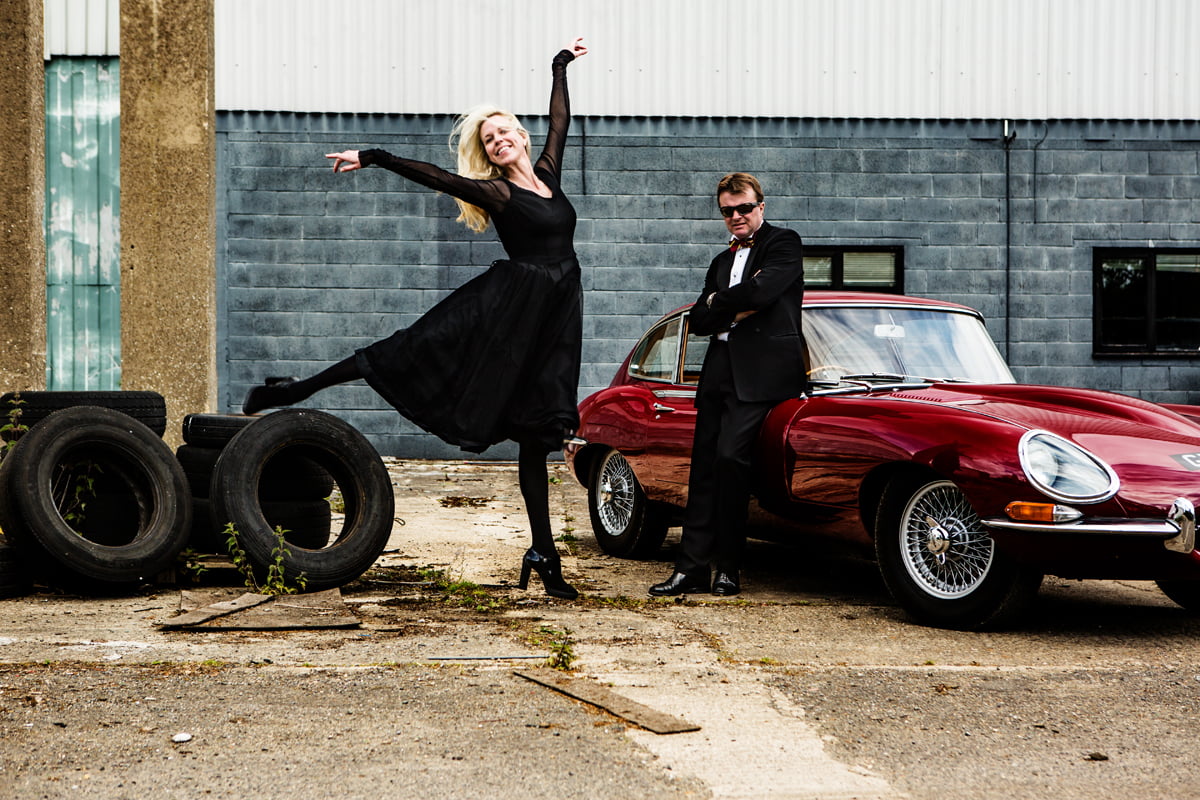 Our final location was a real gem. Collett's Garage in Wheatley is another derelict building. An old petrol filling station, and part of Plastow's Coaches premises. Many thanks to Barbara Plastow for permission to shoot there. I was particularly pleased about it, not only for the fact that it's a great backdrop – but also because it is due for demolition at some point, and I was pleased to be able to record it for posterity before it goes.
These shots have an air of the American Midwest about them. The one that heads the blog is one of my favourite shots ever.
Many thanks to Helen and Ed for asking me to photograph the day. We all had a great time, and I love the results. The album that I produced from the day's photographs is something to treasure
If you would like me to record your story, do get in touch.