The Italian Job – A wonderful wedding in Sorrento
Before I begin – an apology is long overdue. It's been a long time since I last posted a blog; and in the meantime, all my previous posts have simply disappeared into the ether. I know not where.
So here goes with a fresh slate.
Back in September, it was my pleasure to photograph Abby and Liam's wonderful wedding adventure in Sorrento. They fell in love with the town (they'd already done the falling in love with each other bit) during a previous holiday, and determined to get married there.
Becky and I spent three days with the wedding party, at the fantastic Villa Sabrina, situated on the road out of the town, and with sensational views of Vesuvius on the horizon.
I usually shoot my pre wedding photos sometime before the event, but because we were going to Sorrento, we agreed to save the shoot until we got there – where we adopted a very Italian style.
The wedding itself was conducted in the Cloisters of San Francesco in the centre of town. It's a very popular wedding location, and understandably so. Abby got ready at the villa, (so did Liam, but at the other end) and was driven to the cloister with her dad in probably the most outrageous wedding car I've ever photographed. It was huge!
The ceremony itself was wonderful. Despite being a popular tourist spot, the two elements seem to co-exist in harmony with each other, as tourists visiting the cloister were respectful and quiet. In fact the whole place felt like an oasis of calm, set aside from the hubbub of a busy town. The open layout of the cloister makes it easy to wander around unobtrusively, and get shots from many angles during the service.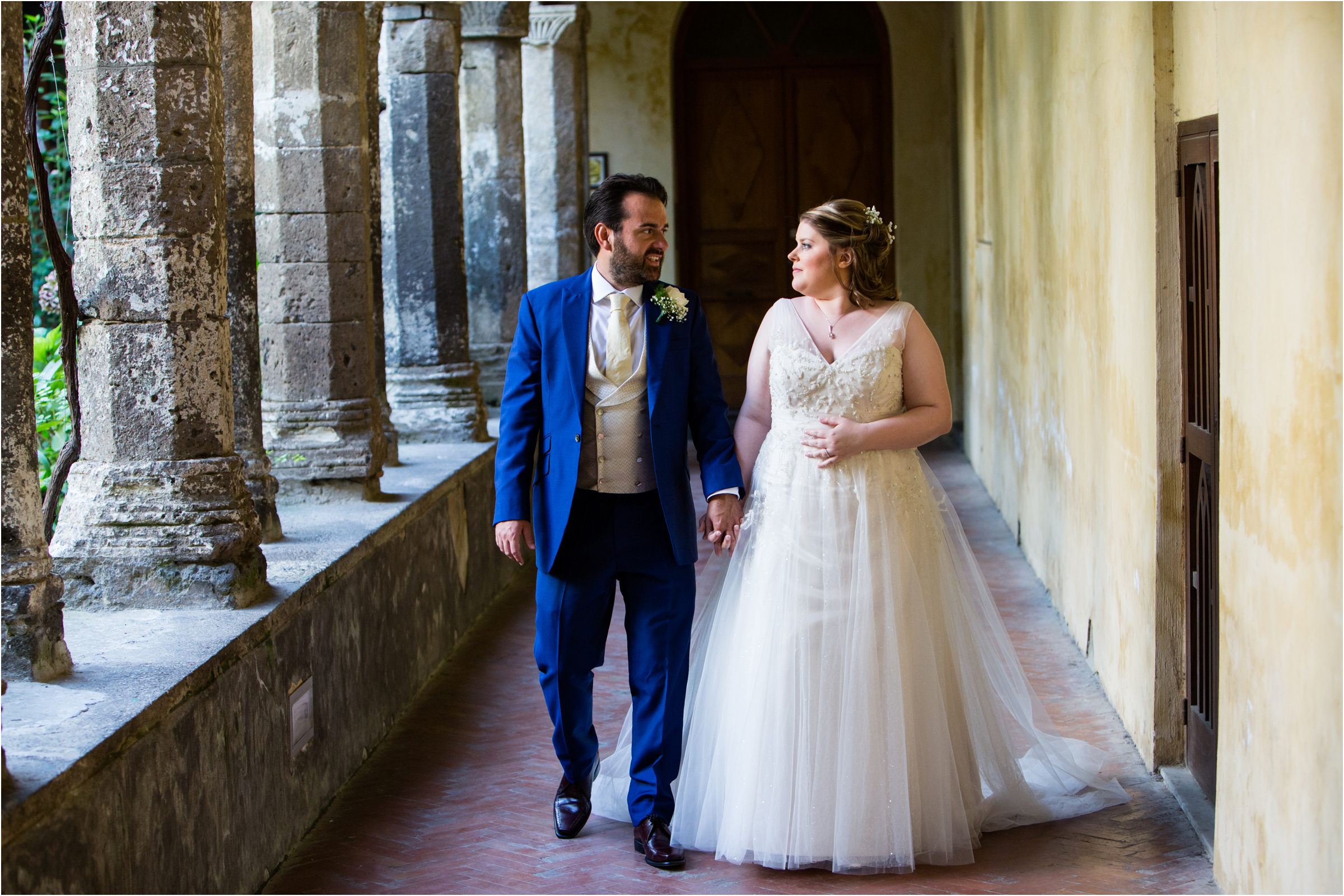 After the ceremony, the wedding party headed off to the Grand Hotel Excelsior Vittoria. It's the most exclusive hotel in the town, with fantastic ambience, food and views. Lovely! It's not a great distance from the cloister, and it was fun processing through the town with locals and tourists congratulating the newly weds.
Time for a group shot on the way.
Then back to the Villa for a very relaxed afternoon, followed by a wonderful evening meal on the terrace. All the catering for the three days was provided by the wonderful Chef Carmen from La Cucina del Gusto.
I have to tell you- this woman's cooking is incredible, and it was without doubt, the best Italian food it has ever been my privilege to eat. She runs cookery classes too, so if you're ever in Sorrento – get in!
Thank you Abby and Liam for asking me to photograph your celebration. It was an honour and a delight to do so.