A decent proposal. What love and imagination can rustle up in the countryside. Buckinghamshire wedding photographer.
Once or twice in my career, I have been asked to photograph a wedding celebration whilst it's still almost a twinkle in somebody's eye. That moment when a person plucks up the courage to ask somebody else to share his life forever more. This is one of those stories.
Adam had planned the whole event pretty meticulously. He was to propose to Shymla in the morning room at Nether Winchendon House. It's a wonderful venue on the Oxfordshire/Buckinghamshire border, where it's been my privilege to shoot weddings on numerous occasions. I love the unique architecture of the house.
He had worked closely with the musician Manny Vass who was to provide the musical accompaniment to the proposal, but who had also co-ordinated all the players in the event. Great job Manny.
Clearly, Adam needed to keep the purpose of the visit a secret until the very last second, and this presented some challenges. First of these was to try to explain to Shymla why they were taking a helicopter trip out to rural Oxfordshire. He covered this by explaining that he had won a couple of tickets for a helicopter flight over London in a draw at work; although she must have wondered what was going on as the aircraft headed off out of the city. Maybe the lure of champagne at the end of the flight was sufficient diversion.
This subterfuge gave me a huge challenge too. I'd been told that on no account could I be seen until after the actual proposal – but I needed to record the helicopter's arrival, and hopefully the walk up the lawn to the house.
I arrived at the house in good time and scoped out the likely landing area – trying to find a spot where I could get a shot of the helicopter, yet remain completely concealed. You can be the judge of whether I pulled it off. All I can tell you is that there is an awful lot more foliage than I remembered, lining the river bank that I was positioned on. Having no idea about the direction of approach, or the exact time of arrival were further challenges.
Once the helicopter had touched down, I had a new challenge, and it's one that I pretty much failed. It had been my intention to hide behind a series of trees, ninja style, on the way up to the house, to conceal myself from Shymla. I'd dressed in drab clothing to keep myself inconspicuous, and rehearsed my route several times before the arrival.
Having never met Shymla before, I had no forewarning of her very inquisitive nature. There was no way this was going to work. The second she crossed the river, I knew I was in trouble. I could see that her radar was in full swing, and if I broke cover at any point, the game would be up.
Here's my best shot. Not what I had in mind at all.
Photography of the event was a last minute addition, and had I more time beforehand, I would have spoken to Adam to try to engineer this moment for a better result. But hey, it's all about the memories, isn't it?
I guess there's one question you'd like to know the answer to, and I can tell you that yes, it was all worth it! Excellent result.
Adam didn't want the actual proposal photographed, which we can all understand. The only people in the room were himself and Shymla, and Manny, who played a rendition of Debussy's Clair de Lune. What could be more romantic?
The beautiful bouquet was provided by the lovely Katie Rhodes at GladysDoris (named after her grandmothers)
Immediately after the proposal, the couple were joined by their parents, who had been hiding in an adjacent room. The room was filled with joy, laughter, champagne and canapes.
Before I left, I took a few portraits of Adam and Shymla. A lovely couple and I look forward to seeing them again.
Thanks to all involved, for a very memorable day.
I had a phone call a few months ago from Helen, who asked me if I was interested in a long lifestyle portrait shoot. She explained that they hadn't had a professional photographer at their wedding, and she would like to organise a portrait shoot instead, but one which was a little out of the ordinary.
She wanted to be photographed with her husband Ed, but also her father Martin, and their three dogs; two Labradors and a Weimaraner. At this point, I have to admit, I wasn't completely sold on the idea. I'm not known as the biggest dog lover in the world. Indeed, I barely measure on the dog toleration scale – but this was about to change.
As our conversation progressed, I was wavering as to whether to do the shoot or not – until Helen mentioned the magic words – E Type Jaguar.
It turns out Helen owns a 1967 model, in fantastic condition, and they wanted to use it in part of the shoot. I was sold!
We organised the day into 2 distinct parts. The morning was all about the dogs. I was looking for a rural theme, where we could find some appealing backdrops for Helen and Ed, but also let the dogs loose. I suggested the ruins of Minster Lovell Hall.
It's a magical place, with plenty of scope for portrait photography. And action shots of dogs. I really enjoyed taking these. I surprised myself!
We had a very relaxed morning, and a lot of fun.
And so, to the afternoon. I'd asked Helen and Ed to put on posh frocks (well, Helen anyway – Ed wore a tux), and had a vision of photographing these beautiful people, and their equally beautiful car, against a decaying urban background. I had scouted out a couple of locations. The first was a local industrial estate, where the expanse of peeling corrugated iron, and towering derelict concrete columns appealed. Most of this estate has been modernised over recent years, with many shiny new units – so I was lucky to be able to record this.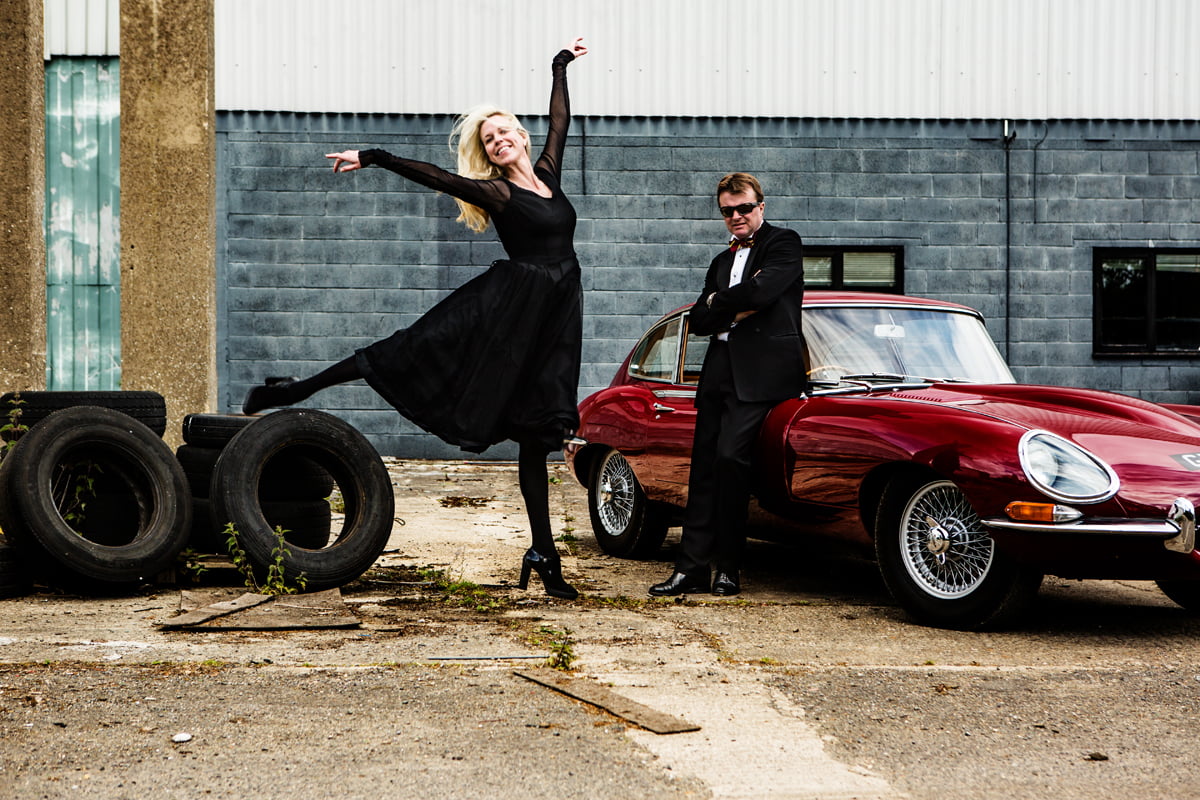 Our final location was a real gem. Collett's Garage in Wheatley is another derelict building. An old petrol filling station, and part of Plastow's Coaches premises. Many thanks to Barbara Plastow for permission to shoot there. I was particularly pleased about it, not only for the fact that it's a great backdrop – but also because it is due for demolition at some point, and I was pleased to be able to record it for posterity before it goes.
These shots have an air of the American Midwest about them. The one that heads the blog is one of my favourite shots ever.
Many thanks to Helen and Ed for asking me to photograph the day. We all had a great time, and I love the results. The album that I produced from the day's photographs is something to treasure
If you would like me to record your story, do get in touch.