A top hat, and an awful lot of pink. Wedding at the Oxfordshire. Oxfordshire wedding photographer.
It has to be said; Miriam likes pink. Miriam has always liked pink, which is why it's the overwhelming theme in her childhood bedroom, and why it was a big feature of her wedding day. That's great. I like pink too.
See what I mean? We had a fun morning at the house in Thame as all the girls got ready, lubricated with a little Prosecco.
Miriam looked sensational as her dad, Paul, saw her in her dress for the first time. It's always such an amazing moment, which I remember very clearly from my own daughter's wedding day.
Matt was in traditional morning dress, complete with top hat, and he was very attached to the latter. I don't think it was a lifelong affection, as Miriam's is with pink; but a fleeting love.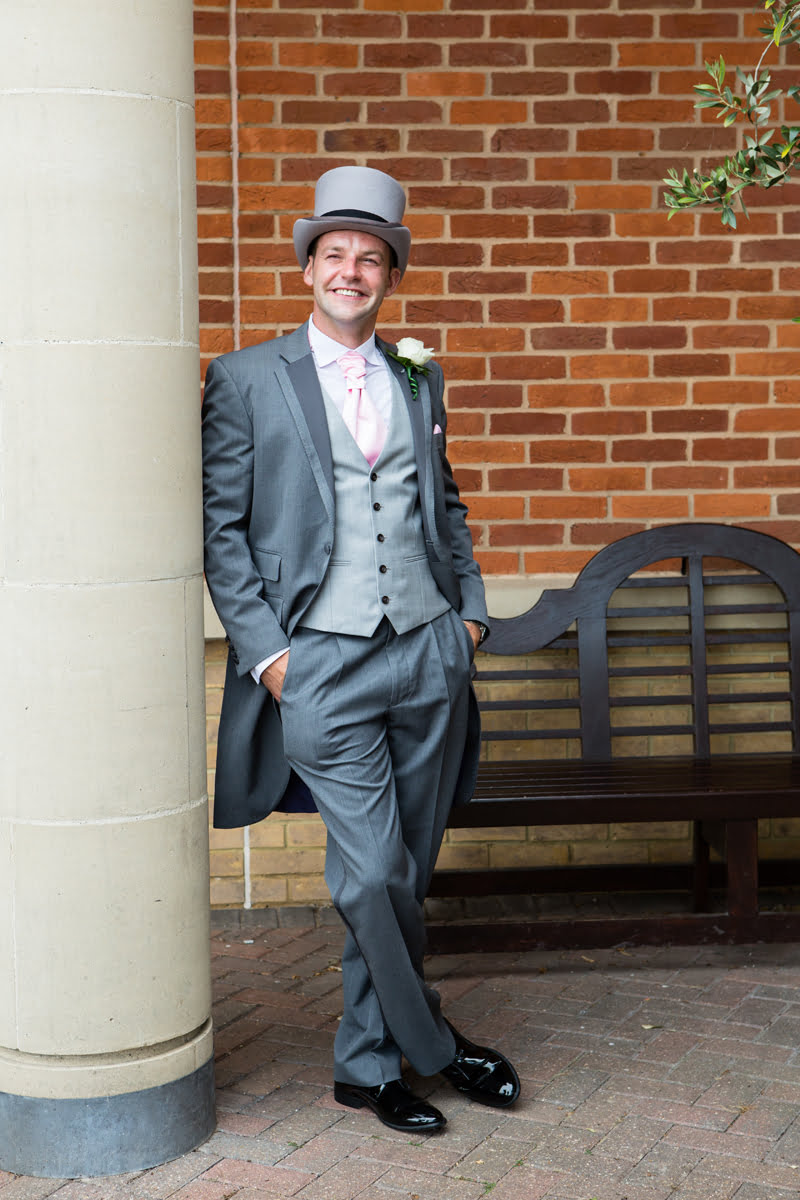 The ceremony itself was really interesting. It started with a civil ceremony, much the same as many I photograph, but was followed with a Jewish ceremony. Paul walked Miriam down the aisle, and from speaking to him afterwards, this was one of the proudest moments of his life. I think you can see he is loving every second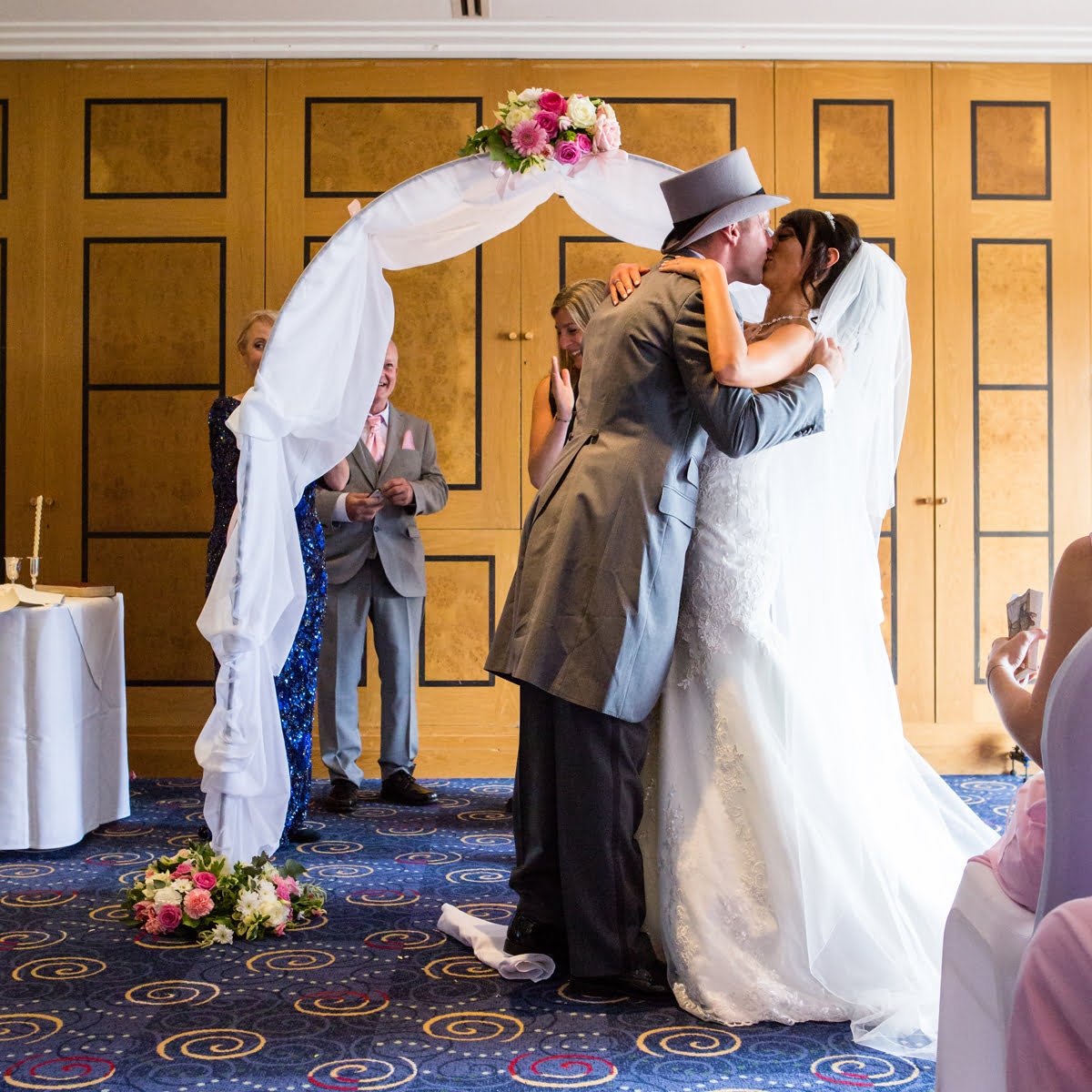 After the ceremony, we got everybody together for a big group shot
The Oxfordshire boasts a lake, which can be a great location for couple's shots.
I don't think they put this chap off his swing!
Prior to the wedding breakfast, Matt and Miriam led a very energetic session of Israeli dancing. I have a theory that this is a tradition originally conceived by a committee of brides' fathers, as the main purpose of it appears to be to so exhaust the groom that he will have no energy reserves by the end of the evening.
I get exhausted just looking at these photos!
So, to lunch, and cake cutting.
After the wedding breakfast, Miriam and Matt took some time out for themselves (and me, obvs.)
We witnessed some pretty awesome Dad (and Mums) dancing too!
Thanks to Miriam and Matt for asking me to photograph your day.
Last month, it was my pleasure to photograph the wedding of Cara and Etienne. I only met the couple a few days prior to the wedding, as they live in Australia – so all my dealings with them had been through e-mail, and through Etienne's mum, Annelize. Luckily, we all got along fine. A lovely couple.
What I did know, was that both the bride and groom have a passion for ecology and conservation, and that the wedding was to be a relatively simple, rural affair. So, I wanted to keep that in mind for the couples' shots.
Cara got ready at Annelize's house, which has a fantastic garden
The day was all due to take place at The Crown at Pishill. It's a lovely country pub, steeped in history, and on the road between Watlington and Henley on Thames.
The ceremony and reception took place in the thatched barn alongside the pub, and was an ideal size for the quite intimate group attending. Cara is Canadian, so it was quite an international gathering.
Following the ceremony, I had a very short amount of time to whisk the couple away to take some photographs of just the two of them. I had scouted the area a couple of weeks beforehand, and found a setting a few minutes away which showed promise. A dusty track, a field full of wheat (I think. I'm not really a country lad), and an old iron barn.
Then it was back to the barn for lunch, speeches and cake cutting.
For the big group shot, I organised everybody around the beautifully restored barn that sits at the roadside, and advertises the name of the venue.
I think everybody's having fun!
Thank you to Cara and Etienne for asking me to photograph your day, and also to Annelize who did such a great job of organising it on the UK side.
I hope you love your album when it catches up with you in Australia.
Once or twice in my career, I have been asked to photograph a wedding celebration whilst it's still almost a twinkle in somebody's eye. That moment when a person plucks up the courage to ask somebody else to share his life forever more. This is one of those stories.
Adam had planned the whole event pretty meticulously. He was to propose to Shymla in the morning room at Nether Winchendon House. It's a wonderful venue on the Oxfordshire/Buckinghamshire border, where it's been my privilege to shoot weddings on numerous occasions. I love the unique architecture of the house.
He had worked closely with the musician Manny Vass who was to provide the musical accompaniment to the proposal, but who had also co-ordinated all the players in the event. Great job Manny.
Clearly, Adam needed to keep the purpose of the visit a secret until the very last second, and this presented some challenges. First of these was to try to explain to Shymla why they were taking a helicopter trip out to rural Oxfordshire. He covered this by explaining that he had won a couple of tickets for a helicopter flight over London in a draw at work; although she must have wondered what was going on as the aircraft headed off out of the city. Maybe the lure of champagne at the end of the flight was sufficient diversion.
This subterfuge gave me a huge challenge too. I'd been told that on no account could I be seen until after the actual proposal – but I needed to record the helicopter's arrival, and hopefully the walk up the lawn to the house.
I arrived at the house in good time and scoped out the likely landing area – trying to find a spot where I could get a shot of the helicopter, yet remain completely concealed. You can be the judge of whether I pulled it off. All I can tell you is that there is an awful lot more foliage than I remembered, lining the river bank that I was positioned on. Having no idea about the direction of approach, or the exact time of arrival were further challenges.
Once the helicopter had touched down, I had a new challenge, and it's one that I pretty much failed. It had been my intention to hide behind a series of trees, ninja style, on the way up to the house, to conceal myself from Shymla. I'd dressed in drab clothing to keep myself inconspicuous, and rehearsed my route several times before the arrival.
Having never met Shymla before, I had no forewarning of her very inquisitive nature. There was no way this was going to work. The second she crossed the river, I knew I was in trouble. I could see that her radar was in full swing, and if I broke cover at any point, the game would be up.
Here's my best shot. Not what I had in mind at all.
Photography of the event was a last minute addition, and had I more time beforehand, I would have spoken to Adam to try to engineer this moment for a better result. But hey, it's all about the memories, isn't it?
I guess there's one question you'd like to know the answer to, and I can tell you that yes, it was all worth it! Excellent result.
Adam didn't want the actual proposal photographed, which we can all understand. The only people in the room were himself and Shymla, and Manny, who played a rendition of Debussy's Clair de Lune. What could be more romantic?
The beautiful bouquet was provided by the lovely Katie Rhodes at GladysDoris (named after her grandmothers)
Immediately after the proposal, the couple were joined by their parents, who had been hiding in an adjacent room. The room was filled with joy, laughter, champagne and canapes.
Before I left, I took a few portraits of Adam and Shymla. A lovely couple and I look forward to seeing them again.
Thanks to all involved, for a very memorable day.